---
Sri Guru Angad Dev Ji
---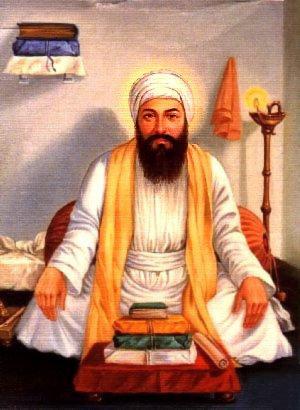 ( 1504-1552, Guruship- 1539-1552 )
Guru Angad Dev was born on March 31, 1504 in a village called Harike in Ferozepur district of the Punjab. His father, Bhai Pheru was a trader. His parents called him Lehna. He was married at the age of fifteen. His wife, Khivi was a native of Mattei di Sarai in Ferozepur district. His father grew weary of Harike and with his family returned to his ancestral place, Mattei di Sarai and lived there. Bhai Lehna's wife gave birth to two daughters, Amro and Anokhi, and two sons called Dasu and Datu.
As the second Sikh Guru he enjoined all hi followers to provide selfless service to humanity, completely surrender to God and renounce all exhibitionism and hypocrisy. He composed 63 hymns in the form of Slokas which are within the Sri Guru Granth Sahib (Sikh scriptures).
Guru Angad conferred the Guruship on Baba Amar Das who was proved to be the fittest and the most worthy for the Divine throne of Guru Nanak.
---
- BACK -
---