---
Bhai Mehtab Singh ji & Bhai Sukkha Singh ji
( 1720 - 1745 )
---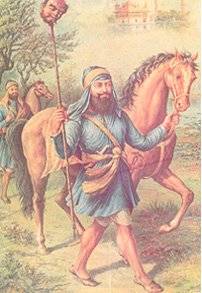 In October 1738 A.D., Qazi Abdul Razak was killed in an encounter with Singhs. Zakaria Khan, Governor of Lahore Suba of Mughals, knew that Sikhs would always try to visit their fountain of Truth- the Golden Temple. The choudhry of Mandiala was one Mir Musalul Khan, commonly known as Massa Ranghar (Ranghars are those Muslims who are born out of parentage of Hindu and Muslim parents). In 1740, Zakaria Khan assigned this man the task of watching around Amritsar for Sikh devotees. Governmcnt soldiers augmented his guard. Massa needed no further prompting from the authorities. He placed his cot in the center of the temple, and set about desecrating it to his heart's fill. Street girls danced before him while he dined and wined in the holiest of the Sikh shrines. Massa Ranghar turned Harminder Sahib into a dance hall and started holding parties there. By his orders all the Sikhs of Amritsar were hounded and killed. There would always be one or two Sikhs in hiding near the temple, waiting for nightfall, when they could steal in for a dip in the tank. Sardar Bulakha Singh happened to be around when Massa was in occupation. After this he began looting and harassing Hindus, accusing them to be sympathetic with Sikhs. The house of Tej Ram was looted on his orders. Tej ram and Bulakah Singh hurried away with this painful secret and headed straight for Bikaner, where they unburdened themselves before the band of Sardar Sham Singh. The leader of that squad Sham Singh said in the congregation, "Is there a Singh who will cut and bring Massa Ranghar's head here?" From the assembly of Sikhs stood up one Mehtab Singh of Meerankot, who declared his resolve to go and kill Massa or be killed himself. Another very brave man Sukha Singh of Mari Kamboki also stood up and asked permission of Sardar Sham Singh to accompany Mehtab Singh. The whole gathering said their ardaas for the success of the mission and two rode away in the hot month of August to be disguised as two landlords bringing the revenue into Amritsar. They reached Damdama Sahib by evening.
On the next morning before starting from Damdama sahib, they disguised themselves as Muslims of Patti and filled two sacks with the pieces of broken eartherwares and loaded them on the backs of their horses. They had hung their hair loose behind their necks (as the Pathans do). Entering Harminder Sahib they tethered their horses to the berry tree and went inside with the sacks on their shoulders. They saw that Massa Ranghar was sitting on a bed smoking hubble-bubble (hookah), prostitutes were dancing and wine was flowing freely. They placed the sacks under the bed and said, "We have come to pay the revenue." When Massa Ranghar bent to feel the sacks, Mehtab Singh cut his head in a flash and put it in a sack after empting it of the potsherds. Sukha Singh made short work of the company of Massa Ranghar. Having finished their work with the speed of lightening, the Singhs mounted their horses and were out of sight in no time. By evening both the Singhs reached Damdama Sahib. The next day they presented Massa Ranghar's head on a spear to their leader at Budha Johar. The gathering congratulated them and ordered that the head be consigned to the flames.
Aqil Dass Jandiala, the government informer told the Governer, "Sukha Singh and Mehtab Singh are the persons who have taken away Massa Ranghar's head. They are living in Bikaner. Sukha Singh is not married. Mehtab Singh's wife and seven years old Son, Rai Singh are living at Mirankot whom he has left in the care of Natha Khaira, the headman of village before going." Hearing this, the Governer said to Commander Nur Din, "Take the army to Mirankot immediately and bring Mehtab Singh here. If he is not there bring his son with you." At the demand of the Commander, Natha Khaira did not hand over Rai Singh to him but preferred to fight to save his friend's son. During the skirmish Rai Singh was badly wounded but recovered. Natha Khaira and his son attained martyrdom. Later on Rai Singh's son Bhai Rattan Singh wrote Panth Parkash. When in 1745 A.D., Bhai Mehtab singh came to Mirankot Aqil Dass Jandiala had him arrested. With the orders of the Governer of Lahore, he was tortured and martyred in June 1745 A.D.
---
- BACK -
---